Why have Learner Participation
Having an effective way for learners to openly express their opinions on matters that affect them can be a rewarding experience for learners and teaching staff. It creates strong lines of communication and positive links among the school community.
Effective learner participation in schools can lead to:
Improved learner engagement, well-being, behaviour and learning
Better learner and staff relationships
Better whole school policies and procedures, based on the real needs of the learners
More inclusive communities, where all learners are encouraged and supported - not just those who are most confident and articulate
Increased opportunities for pupils to develop personal and social skills
Learner participation can bring certain issues to the attention of the school which otherwise might have gone unnoticed or simply not been considered. It can bring a greater sense of ownership of the school amongst the learners - and with a sense of ownership comes a sense of responsibility and care.
Learner participation relates to young people being asked their opinion on issues of importance to them, or issues which affect them within their education. The concept of pupil participation originates mainly from Article 12 of the United Nations Convention on the Rights of the Child (UNCRC). Article 12 lays down the right of all children and young people to have a say about what they think should happen, and to have their opinions taken into account when adults are making decisions that affect them.
Considering how many decisions are made in a school, about matters that directly affect learners, the potential for learner participation is vast. However this is ultimately decided by SLT and the governing body and their duty to upholding the principles of UNCRC.
Your School's Participation Journey
Where ever your school is on its journey towards shared decision-making, it's important that you start with an assessment of where you currently stand. Below are some questions which may be helpful to consider when you are assessing this:
'What methods of communication are used when pupils are being involved in making decisions? Are these methods accessible and timely? Is information shared in ways that are meaningful for all?
Are children and young people able to make a choice whether or not to get involved in the decision-making process from an informed basis?
Are all pupils in your institution able to take part in decision-making at their own level, regardless of age, ability or circumstances?
Are young people's views genuinely listened to and taken into account when decisions are being made that affect them?
If pupils get involved in decision-making, do they know how this has improved things and what difference they have made? If their views cannot be implemented, do they know why this is the case?
Are pupils helped to develop self-esteem, skills and qualification through participation?
Is participation part of a broader approach to school improvement, involving pupils in a cyclical process of learning and improving as a professional Learning Community, and across clusters of schools?'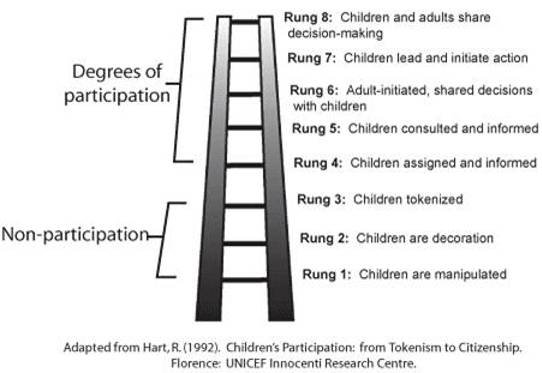 Once you have a baseline assessment of where you currently are, consider Hart's Ladder as a model to measure the extent of learner participation and plan a way forward:
To help you move towards shared decision-making, consider developing a Learner Participation Policy so that all learners have the opportunity to have their voice heard and to participate in decision-making processes. Having a policy alone will not ensure learner participation, but it is a good way to assess current practices, identify gaps, and address these in an ongoing manner. Involving the learners themselves in this process will send a strong message to the learning community that learner voice is taken seriously, and will encourage a sense of ownership and motivation.