Healthy Eating
Eating well is essential for children in their early years to ensure healthy growth and development. Good nutrition in early years is more important now than ever. Early years settings provide an ideal opportunity to encourage young children to eat well and learn about food. This not only helps protect their health while young but also sets the foundations for their future health and wellbeing. 
Eating Well for Under 5s training
This course run by the Healthy Under 5s team, will help you to understand the nutritional needs of children and is recommended for all settings including those who provide meals, snacks or drinks to babies and children up to five years.
Menu planning and meal ideas
Recipes
Allergen and food safety
Food safety management procedures and food hygiene regulations for small businesses
Sugar Smart
SUGAR SMART is a campaign run by Sustain that aims to help organisations reduce the amount of sugar we all consume.
Once you sign up you will receive a 'Sugar Smart UK: registration confirmation' email. Your account is now active and you can explore the Sugar Smart website and pledge your SUGAR SMART actions! You can choose from 14 pledges to work towards.  Pick at least 3 pledges to become an official SUGAR SMART setting. Things such as set a SUGAR SMART challenge, replace sugary items with healthier options, install water points and promote drinking water as the number one drink and most importantly promote and spread the word to reduce the amount of sugar in all our diets.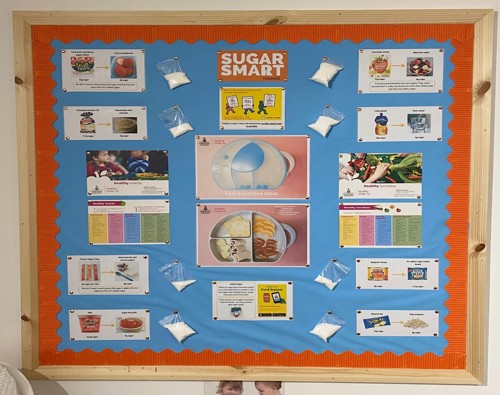 Healthy Start
Vitamin D explained
Fussy eating
Using seasonal veg
80% of our kids are not eating enough vegetables. Veg Power is on a mission to inspire kids from early years through primary school and into their teens to veggie loving habits they will keep for life and in turn share with their children 
Seasonal recipe for June using courgettes!
Healthy eating resources and useful websites
Excellent resources written by nutrition experts that cover eating well from pre-conception to five years.