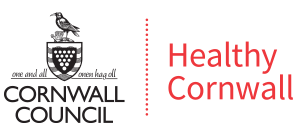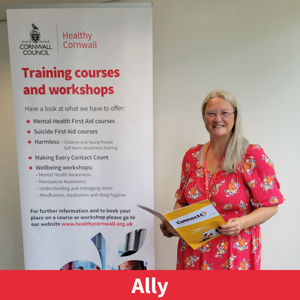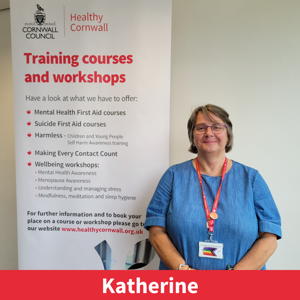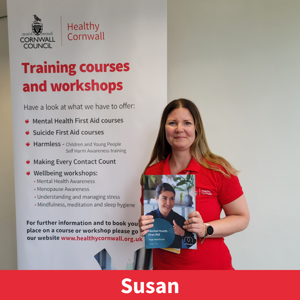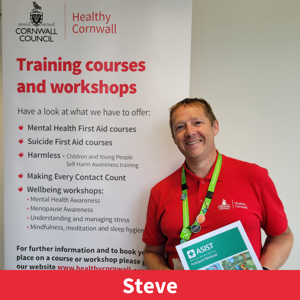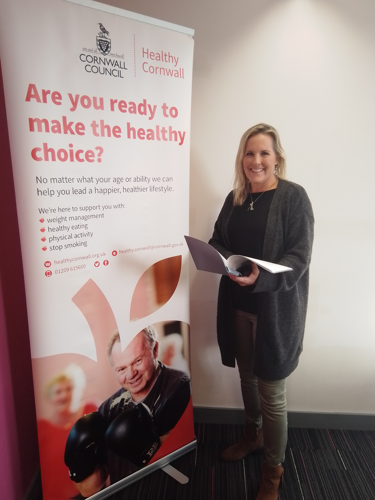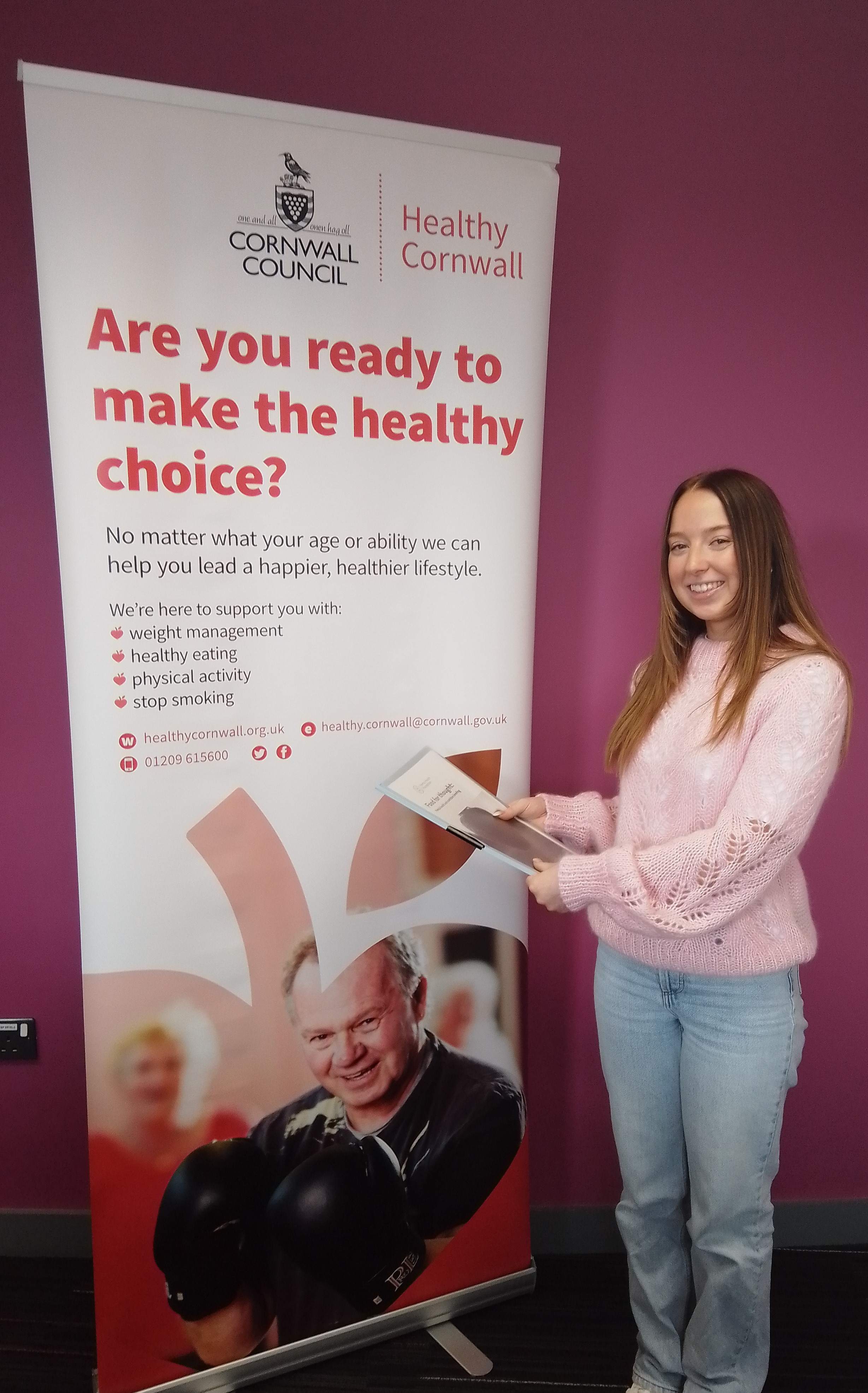 I'm Ally Green, the Workforce & Training Team Lead. After 18 years working in both Adults & Children's Social Care, I moved 5 years ago to Healthy Cornwall, it's been a great five years working alongside staff motivated to improve the physical and mental health of residents, particularly those most at risk of health inequality.  I lead on the workforce and training offer for Healthy Cornwall and provide line management support to the training team and outreach health check practitioners.  To keep my resilience levels in good shape, I love how regular yoga makes me feel, and maybe this is the moment to reveal my guilty wellbeing pleasure – sitting in the garden listening to BBC Radio 4's The Archers!
My name is Katherine Castle, I am a Health and well-being trainer with Healthy Cornwall. As a recent addition to the team, I am enjoying getting to know everyone. It is a great privilege to deliver our training all over Cornwall. Supporting a huge variety of organisations and individuals to improve their well-being. I try to get to my allotment every day before or after work - and not only does it supply me with delicious fresh seasonal fruit and veg, but it boosts my physical and emotional health, either through the sense of community or more reflective moments which can be found there.
My name is Susan Care and I joined the team as a trainer in 2021. I love my role as a trainer because I am able to give people the skills and confidence to help improve their lives and those of the people they work with.  I am particularly interested in understanding behaviour change and how this impacts on mental health and wellbeing. Having run weight loss groups for 7 years prior to this role I have a great deal of experience in this field.   To keep myself mentally and physically fit, outside of work you will either find me in the gym, walking my chocolate Labrador or drinking coffee with my friends (also eating cake!).
My name is Steve Webb and I am very proud to be part of the Healthy Cornwall training team.  I joined the team in 2021 as a career change from teaching in primary schools.  I am particularly interested in children and young people's mental health and so really enjoy delivering the youth focussed training we have on offer.  Outside of work time I am a keen runner and will often be found running along our wonderful coast path, looking after my own physical and mental wellbeing.
My name is Becky Miles and I am a public health and wellbeing trainer for Healthy Cornwall. I previously worked as a teacher and a trainer delivering coaching courses for England Athletics.  I have also organised and delivered programmes designed to support people with their emotional and physical health.  I feel very proud to work with Cornwall Council's Healthy Cornwall delivering courses that will ultimately improve people's overall health.  I look after my own physical and mental health by running in our beautiful county or swimming in the sea – even when its icy outside!  I recently took up yoga and meditation and find that they are great for helping me to switch off.  When it's raining and windy outside, I do enjoy watching a film on the sofa with my daughter and crazy dog!
My name is Darren Matthews, after over 20 years training in the Customer Experience and Improvement service within Cornwall Council I am delighted to now be a part of Healthy Cornwall to continue my career in delivering training. I joined as a Wellbeing and Public Health trainer in 2023 and I am passionate about making a difference when I can to residents across the whole of Cornwall. I am especially interested in the area of Mental Health and Wellbeing, and I hope to give people the skills, confidence and know-how to better their lives. Outside of work as a proud Cornishman I am actively involved with Camborne Rugby Club and for my own physical and mental wellbeing you will often find me either out and about walking or in the gym.
I'm Kaileigh Blackham, the public health trainer apprentice. As a new addition to the team, I am excited to get to know everyone, and support the community to improve their overall health and wellbeing! I have just finished Plymouth Marjon University and achieved a degree in health and wellbeing. However, I am particularly passionate about diet and mental health. My dissertation looked into how Instagram impacts disordered eating behaviours in young adults, which I feel is particularly important within my age group. To keep myself happy and fulfilled, I spend a lot of time at the gym, on long beach walks or vintage shopping!
Book Training:
You can meet our fantastic training team in person or online by booking yourself on to one of our large variety of training sessions available.
Check out our full training offer and book your place on a course today