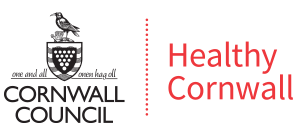 Healthy Pregnancy
Keeping a healthy lifestyle is important during pregnancy; eating healthily will help your baby to develop and grow and keeping active can help you cope with the demands on your body during pregnancy and labour. Avoiding tobacco smoke is one of the best things you can do to give your baby a healthy start in life.
Our healthy pregnancy advisors will be available after you have had your 12 week scan to give advice on having a healthy pregnancy. If you would like more information either ask your midwife for a referral, call us on: 01209 615600 or email us: healthy.pregnancy@cornwall.gov.uk
Download our healthy pregnancy booklet - Our healthy pregnancy booklet covers a range of topics that you might find useful during your pregnancy, including, eating well and foods to avoid, supplements, staying active, activity ideas, smoke free pregnancy and breastfeeding advice
Healthy Start  - Click here for more information on Healthy Start, with Healthy Start, you get free vouchers every week to spend on milk, fresh, frozen, and tinned fruit and vegetables, fresh, dried, and tinned pulses, and infant formula milk. You can also get free vitamins!
This is an uncertain and anxious time for everyone who is pregnant. Below is some additional information about Coronavirus (COVID-19) and pregnancy:
COVID-19 Guidance
Coronavirus and mental wellbeing in pregnancy guide |  This brief guide has been produced to support pregnant women with their mental wellbeing during the Coronavirus outbreak.
Gov.uk | Updated daily and includes information about pregnancy and COVID-19 and employee rights.
Tommy's | A simple summary of the current guidance about COVID-19 and pregnancy. The website also contains lots of information about all pregnancy topics.
24-hour Maternity Triage Line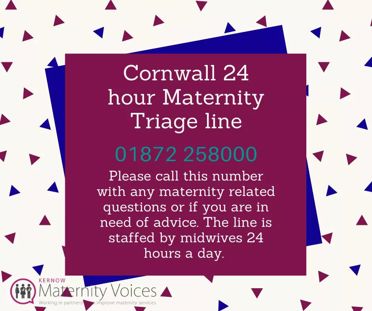 Support for those living with domestic abuse
Safer Futures | COVID-19 will have serious impacts on the lives of those living with domestic abuse. For some people, home is not safe. Safer Futures provides advice, support, education, recovery and behaviour change programmes for people affected by domestic abuse and sexual violence.

 
Online local support
Kernow Maternity Voices Partnership | An independent committee of families, birth supporters and maternity professionals who come together to support the transformation of Maternity Services in Cornwall & The Isles of Scilly. Follow their Facebook page for lots of information and support, including live Q&A sessions.
For more information about local support, follow your local midwifery team's Facebook page.