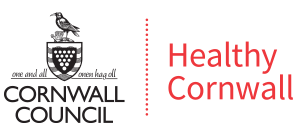 Healthy Pregnancy
Keeping a healthy lifestyle is important during pregnancy; eating healthily will help your baby to develop and grow and keeping active can help you cope with the demands on your body during pregnancy and labour. Avoiding tobacco smoke is one of the best things you can do to give your baby a healthy start in life.
24-hour Maternity Triage Line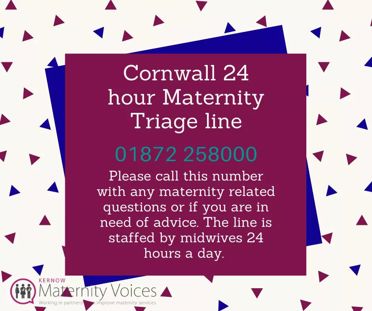 Support for those living with domestic abuse
Safer Futures | COVID-19 will have serious impacts on the lives of those living with domestic abuse. For some people, home is not safe. Safer Futures provides advice, support, education, recovery and behaviour change programmes for people affected by domestic abuse and sexual violence.

 
Online local support
Kernow Maternity Voices Partnership | An independent committee of families, birth supporters and maternity professionals who come together to support the transformation of Maternity Services in Cornwall & The Isles of Scilly. Follow their Facebook page for lots of information and support, including live Q&A sessions.
For more information about local support, follow your local midwifery team's Facebook page.
EHPIC
Smoking is harmful to the unborn baby. In the UK around 2200 babies are born too early and 500 babies are stillborn with a third of these being over 37 weeks in gestation. This is incredibly sad for all involved and we want it to stop. The NHS recently set out a national ambition to halve this rate as set out in the "Saving Babies Lives Care Bundle" with an ambition of achieving a smoking in pregnancy rate of 6%. In Cornwall our rate is currently around 15%, far too high. We know that people smoke for a number of reasons and simply quitting is tough. We understand that individualised support is required to really help; we want to do this. We are therefore very proud to announce our commitment to our Cornish community who are pregnant, a partner or are a family member who would like to quit smoking.
EHPIC, is a new multi-agency group that brings together everyone who can help and we are committed to reducing the number of those who smoke in or around pregnancy, a child's early years and beyond to ensure a healthier and safer nation. EHPIC which stands for "Empowering Healthy Pregnancy In Cornwall" is being launched on 10th March 2021, National No Smoking Day.

Our healthy pregnancy advisors will be available after you have had your 12 week scan to give advice on having a healthy pregnancy. If you would like more information either ask your midwife for a referral, call us on: 01872 324200 or email us: healthy.pregnancy@cornwall.gov.uk
Download our healthy pregnancy booklet - Our healthy pregnancy booklet covers a range of topics that you might find useful during your pregnancy, including, eating well and foods to avoid, supplements, staying active, activity ideas, smoke free pregnancy and breastfeeding advice
Healthy Start  - Click here for more information on Healthy Start, with Healthy Start, you get free vouchers every week to spend on milk, fresh, frozen, and tinned fruit and vegetables, fresh, dried, and tinned pulses, and infant formula milk. You can also get free vitamins!