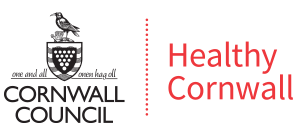 Cookie policy
The information below gives an overview of types of cookies. It also provides details of cookies set by the Healthy Cornwall website and third parties when using our website.
Types of cookies
There are 2 different types of cookie that can be placed in your browser by a website:
Session cookies are only used for the period you use the website. They are deleted when you close your web browser. A new cookie would then be placed in your web browser if you were to visit the same website again in the future.
Persistent cookies remain in your browser once you have left the site and closed your web browser. The next time you visit the site the information in the cookie will be used to ensure the website works as set up at the previous visit. For example to display certain things on the homepage. Persistent cookies will expire if the website that set them is not visited again within a certain timescale.

1st and 3rd party cookies
1st party cookies are cookies set by the www.healthycornwall.org.uk website or a subdomain of it.
3rd party cookies are placed by another 3rd party system when browsing the www.healthycornwall.org.uk website. For example by embedded content within a Healthy Cornwall web page such as YouTube.
Some cookies that are essential for sites to work properly could be set by one or more of the Cornwall Council websites.
Cookies on our website
You can block cookies by third party websites in the cookie options available from the top of every page.
Cookies set by our core www.healthycornwall.org.uk website are not used to identify you personally. They are cookies that are required to make the website work as needed.
| | | |
| --- | --- | --- |
| Name | Purpose | Lifespan |
| ASP.NET_SessionId | User session control  | Removed at end of user session  |
| _RequestVerificationToken | Security for pages that include forms | Removed at end of user session  |
| HC-third party | controls if the user agrees to third party content | 18 days |
| HC-saved | Part of the cookies control | 18 days |
| HC-analytics | Part of the cookies control | 18 days |
Google analytics cookies
The google analytics cookies record usage of the website and systems. They only capture anonymised information. We make no attempt to find out the identities of those visiting any of our websites, We do not share this information with anyone.
These cookies are: _gid | _gat |_gat_webcontentonly | _gid | _ga | _utma | _utmb | _utmc | _utmz
Google publish information on how they manage the data they collect, on their google safeguarding data page.
Cookies set by embedded third party content
We embed some content in the website including:
Videos
Facebook Pixel – to help us understand which parts of our website visitors use for marketing purposes. Users can choose to block this via cookie consent
However, they are not provided directly by us. These systems often set cookies on your machine. In some cases these cookies will be used by the third parties to personalise content for you. You can choose to block third party cookies in the cookie settings available from the top of every page.
Please note that some of the content will not display if you choose to block these cookies.
Below are links to privacy policies from the organisations that we embed content from.
Managing cookies
Most web browsers allow some control of most cookies through the browser settings. To find out more about cookies visit the about cookies website. You can find out what cookies have been set and how to manage and delete them.
You can choose to block the cookies that are set by the Cornwall council website. However you must be aware that doing so may mean that parts of the site will not work correctly.
You can also choose to block only cookies from third parties.